"If it hasn't been in the hand and body it can't be in the brain."
Make all the mess, but not in your own house!!! So Much better!
FunkyKidz Messy Play is a sensory experience for kiddies from 5 months – 7 years.
We offer classes once a week to experiment with different textures and colours.
Our program helps build self-confidence, encourages social play, helps develop fine and gross muscles. And an excellent excuse for bonding time with your little one.
Messy play is a necessity to help your little one develop all learning areas. A child from as young as 5 months can engage in messy play.
Children and adults should dress comfortably, as all classes are floor based. Please wear clothing that you don't mind getting dirty and stained as classes are MESSY! FunkyKidz and the instructors are not responsible for lost, stolen or damaged items. Adult and children's aprons are available for purchase.
Terms and conditions
We make every reasonable effort to ensure the safety of children at FunkyKidz. FunkyKidz and their instructors cannot be held responsible for any injuries incurred during class.
I agree that my child will take part in all activities at my own child's risk.
Payment and booking
Payment needs to be made upfront, your spot is only booked once your payment has been made to the instructor and you have received confirmation from them.
Messy Play
Allows children to use all their sensors to discover and explore.
Children learn the best through play.
Messy Play encourages independence and self-confidence.
Messy play helps develop movement, hand eye-coordination and control.
Messy play classes in your area! Book NOW
If you are interested in becoming a FunkyKidz Messy Play instructor, please email me info@funkykidz.co.za
Find an instructor in your area!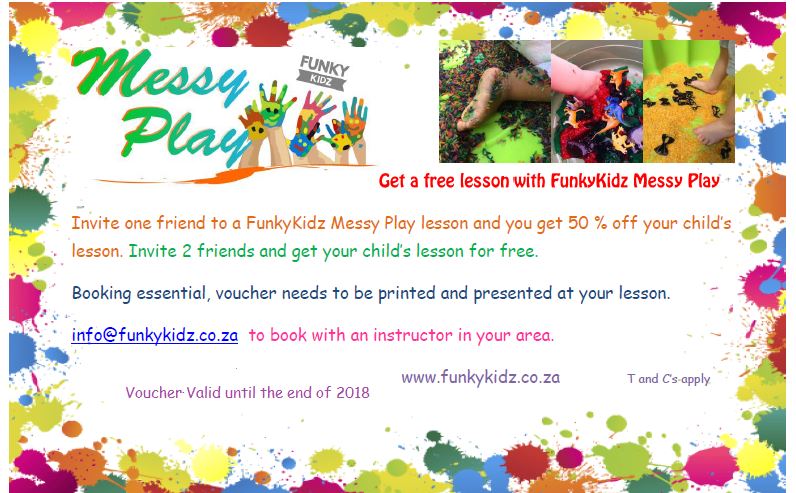 Click here for your Voucher:
Get A Free Lesson With FunkyKidz
We Need You!
Sign up now:
Kindly send us an email to info@funkykidz.co.za with the below details
Full Name
Area you want to become instructor in:
Activity you are interested in being an instructor for Messy Play, Active Play, Little Chefz Play or All 3
Do you have a passion and a love for children?
Are you a go getter?
Are you a team player?
Did you read what becoming an instructor is all about? (all info is below)
Email Address
Contact number